Justice is counties' job, don't rely on state, NGOs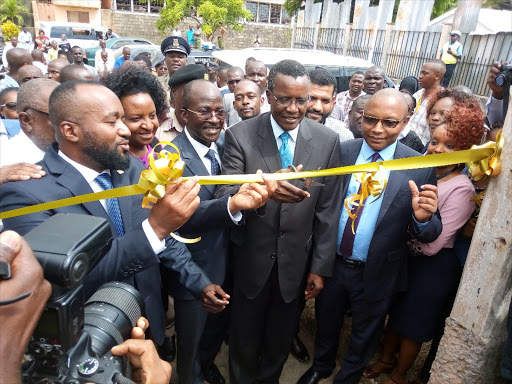 Justice and human rights are key tenets of modern-day Kenya.
The Preamble of the 2010 Constitution recognises "the aspirations of all Kenyans for a government based on the essential values of human rights, equality, freedom, democracy, social justice and the rule of law".
As a country that boasts of a budding democracy that upholds justice and human rights, founded on principles of universal suffrage, political rights and free press, Kenya has the potential of becoming a country of fairness, equity and impartiality. Whether that potential will be realised is a different question altogether.
Historically in Kenya, justice has to many been a myth, alongside the concepts of human rights, equality, freedom and integrity. Yet, the concept of 'access to justice for all' remains one of the most fundamental and widely articulated principles in the world.
Under international human rights law, states are obligated to guarantee each individual's right to go to court or, in some circumstances, access alternative dispute resolution, to seek a right in the event it has been denied, violated, infringed or threatened. The same principle is enshrined in the Constitution, which obligates the government to guarantee access to justice by ensuring the cost of justice does not impede its attainment.
Access to justice and human rights are an essential element of the rule of law and democracy, which entail a fair trial and the right to an effective remedy. Barriers to justice and human rights reinforce poverty and exclusion.
Many of the issues commonly faced by people such as extra udicial killings, torture, land and housing issues, discrimination and exclusion from services, have a legal and rights dimension that, if not resolved, can contribute to abuses and social exclusion.
Maintaining a strong rule of law is a precondition to protecting disadvantaged communities and helping people realise development and overcome poverty within their midst.
It is for this reason that there is presently more pressing need to ensure justice and human rights are guaranteed within communities through the county governments.
As a country that has embraced devolution and is on a path to engraining the same in our social fabric, it is imperative that we devise ways of ensuring residents have access to justice and enjoy the rights guaranteed in the Constitution.
The Council of Governors, which is the premier organ of implementing devolution, has to play the major role of developing and ensuring implementation of justice and human rights policies in the 47 counties.
In the counties, legal information, legal literacy and legal services have been the preserve of civil society organisations such as HAKI Africa. However, the Legal Act provides a framework for collaboration between state and non-state actors in providing legal aid services.
Not all litigants can enjoy the same access to legal representation as wealthy and influential litigants because law and judicial procedures are too technical for many people understand. Equally, promotion of human rights has been left to the same civil society, with county and national governments appearing least concerned. This situation has to change, if we are to realise a new Kenya.
Improving access to justice and human rights in the counties is now more than ever before a key requirement of promoting social inclusion. Maintenance of the rule of law is fundamental to Kenya's socioeconomic prosperity.
It is, therefore, important for state and non-state actors to work together and actualise the constitutional and statutory obligations of providing legal aid and civic education in the counties to expand and enhance access to justice and human rights for all.
Human rights organisations and civil society in general must work with the national and county governments towards the attainment of justice and human rights-responsive counties.
Kenya is now ripe for a new era of justice and human rights that is anchored from below. While the past has been to engage the national government on matters justice and human rights, the future is to devolve these issues to the counties.
By doing so, we will bring fairness and equity closer to home and the people will begin to realise their potential. The CoG and civil society have a crucial role to play in midwifing this process.
By Hussein Khalid
Story from; https://www.the-star.co.ke/siasa/2020-10-18-justice-is-counties-job-dont-rely-on-state-ngos/