OPEN LETTER TO INSPECTOR GENERAL OF POLICE JOSEPH BOINNETT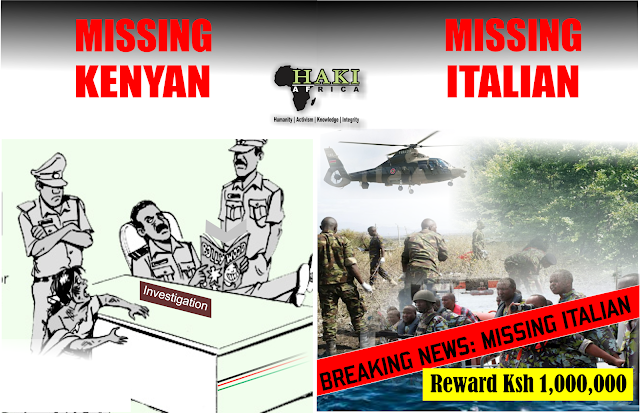 DOUBLE STANDARDS OF KENYA POLICE WHEN DEALING WITH DISAPPEARANCES
I trust this letter finds you well.
We write to you in relation to recent disappearances at the Coast. HAKI Africa can now confirm that the Kenya Police apply double standards in dealing with security cases in the country particularly disappearances. On Tuesday 20th November 2018, 23 year old Italian Silvia Romano was abducted
by unknown persons in Malindi, Kilifi County. Immediately after the abduction, police personnel moved swiftly to investigate the abduction. So far, in less than a week, it is reported that over 20 people have been arrested, full security contingent deployed including helicopters and even an offer of 1 million shillings made for information that will lead to Ms Romano's whereabouts being confirmed.
In contrast, 18 years old Kenyan by the name Husni Mbarak was abducted since 25th May 2018. Despite the family and HAKI Africa doing all that is required to report the matter to the police and making follow ups, nothing of substance has been done by the police to establish his whereabouts.
HAKI Africa has records of over 28 other Kenyans who have been abducted this year alone, yet little or no action at all has been taken by the security agencies to determine their whereabouts. We are very disturbed by this inexcusable double standards applied by the police who treat cases of Kenyans haphazardly and with contempt. While we appreciate the efforts made in the case of Ms Romano, we demand that the same treatment be accorded to Kenyans who have equally gone missing. We remind you as the Inspector General of Police that it is Kenyans' tax payers that police are using and it's a pity to see that Kenyans' issues are brushed aside and not prioritized.
In this light, it is HAKI Africa's position that the police can do better to investigate the case of Husni and other Kenyans who have been abducted. We are utterly disappointed to see that in the case of Kenyans, police choose to be lax and not perform their constitutional and legal duty to investigate. We therefore demand that similar efforts as those of Romano be made in the case of Husni and others who have disappeared. Failure to which, HAKI Africa will move to court to sue the government, particularly you the Inspector General, for failure to act appropriately in the disappearance of Husni and other Kenyans.
Sincerely,
Hussein Khalid
Executive Director